Pennsylvania State Inspection and Emissions Testing
In the state of Pennsylvania, vehicle owners are required to have their vehicles inspected once a year. This is to ensure the vehicle is safe to operate. Emissions testing is done at the same time as safety inspections. Pennsylvania requires the emissions testing to help keep Pennsylvania air cleaner.
If your vehicle fails to pass either the safety test or the emissions test, you have 30 days to make repairs and try the inspection again. If you are caught driving with an expired inspection sticker, you will receive a fine.
Curious about the types of testing your vehicle may need? Check out PennDOT's website for more information about each region's requirements.
Oil Changes
Motor vehicles need engine oil to run. Engine oil helps to lubricate the engine and all its parts so that things run smoothly. Over time, the oil picks up debris from the engine and starts to break down. It is important to change your vehicle's oil on a regular basis.
When should you change the oil? In older vehicles, oil changes are recommended every 3,000 miles. Newer vehicles can sometimes go longer—every 5,000 to 7,500 miles. Factors like the age of your vehicle and the conditions in which you drive it can also impact when you should change your oil. Check your vehicle's owner's manual for instructions specific to your vehicle.
It's a good idea to check your oil level between oil changes. If it seems low, you can top it off by adding some more oil. If it consistently seems low, there may be a leak somewhere. Dark-colored oil indicates it's ready to be changed. Unusual engine sounds, smokey exhaust, and an oil smell in your car can also all be signs your oil is either leaking or needs to be replaced.
Tires
Tires are an important part of your vehicle and they will wear down with use. On average, it's a good idea to change your tires every 5 years. Some tires may last longer than that, but this will depend on how you maintain them.
You should check your tire's tread depth every 3,000 miles. Some tires include a tread depth indicator that will instruct you on when it's time for a new set. Others can be checked by holding a penny or quarter upside down in the groove of your tire. If the tread line touches the top of the head on the coin, your tread is still deep enough to drive on.
You can extend the life of your tires by performing routine maintenance. Keep the correct air pressure in each tire. Rotate them regularly. Make sure they are balanced and aligned properly. Watch for signs of wear and damage, like bubbling in the side walls or sharp objects sticking in your tires. Speeding and quick braking will wear out your tires at a faster rate. Driving on damaged roads and through extreme weather can also shorten the life of your tires.
Alignment and Balancing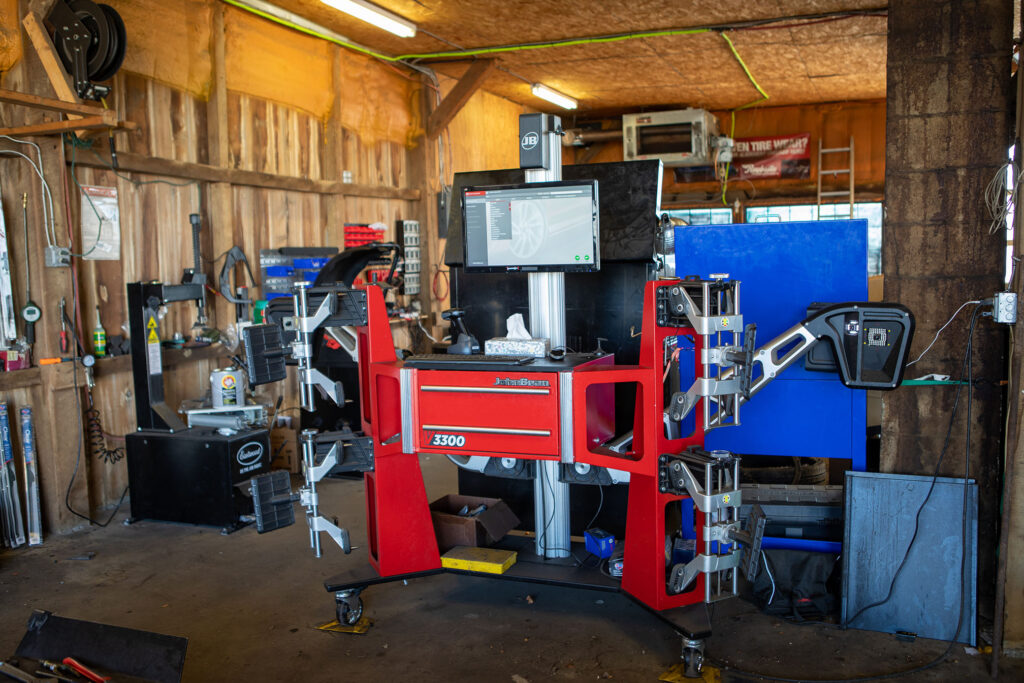 Vehicle alignment, sometimes called wheel alignment, basically refers to the direction or angle of your tires. If your alignment is off, your vehicle will likely pull to one side, shake, or vibrate. You may also notice uneven wear on your tires. Proper alignment is important for maintaining your tires and for safe operation of your vehicle.
Tire balancing is the correction of weight distributed between your tires. Often done at the same time as wheel alignments, tire balancing is another way to maintain your tires and protect your car's suspension. Signs that your tires need to be balanced include shaking in the floor or steering wheel and uneven wear.
It's a good idea to have your tires balanced and your alignment checked every 6 months, every 6,000 miles, or every time you have your tires rotated.
Rust Inhibitor Frame Spray
Restored Auto, LLC has Fluid Film Frame Spray to protect your vehicle against rust and other damaging elements you may encounter while driving. Pennsylvania weather changes frequently and that means your vehicle is exposed to the sun, rain, snow, and wind regularly. This can cause damage to your vehicle over time and can even present safety issues.
Fluid Film Frame Spray protects your vehicle against rust, weather, road salt, fertilizers, pesticides and other debris that can damage the underbody of your car and cause rusting. It creates a barrier against these things and protects exposed metal for up to a full year. Extend the life of your vehicle by protecting it with Fluid Film Frame Spray.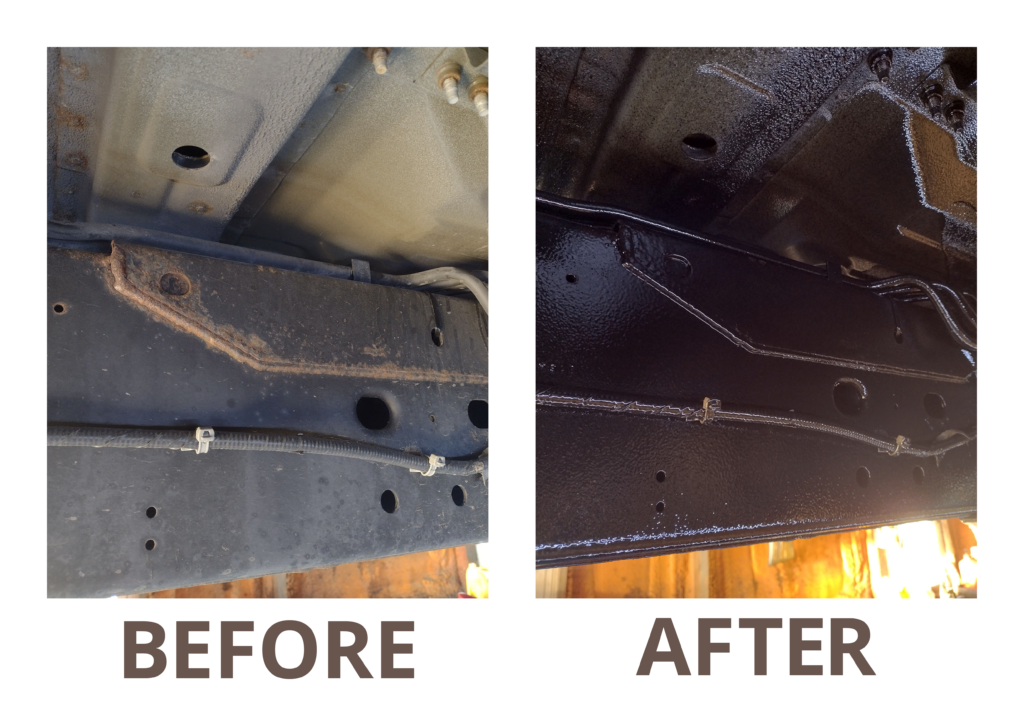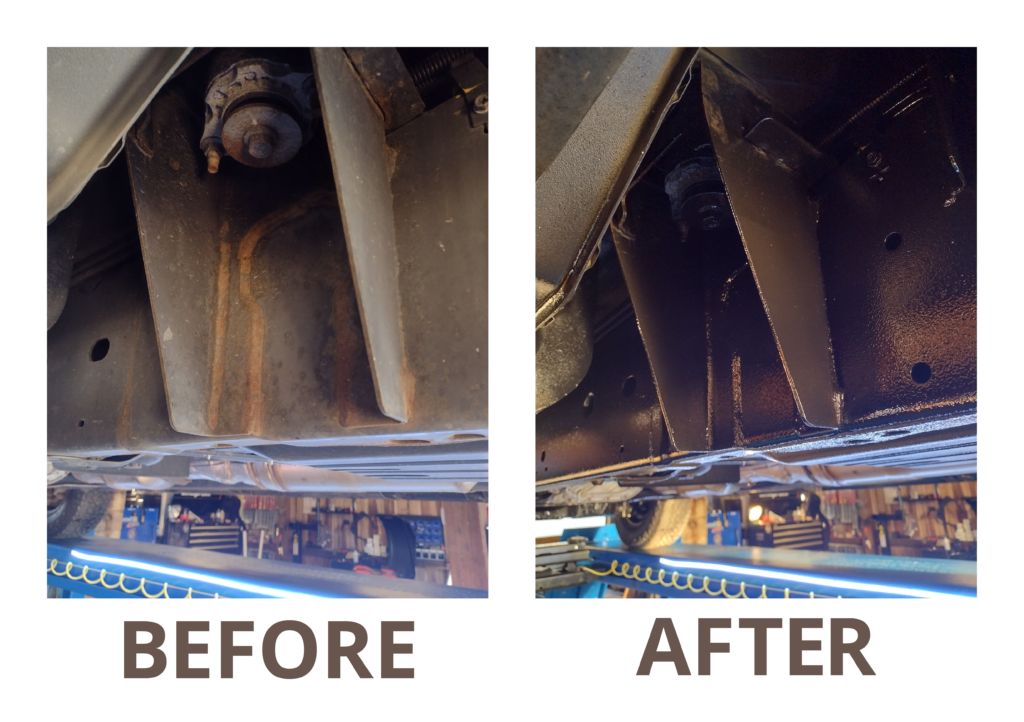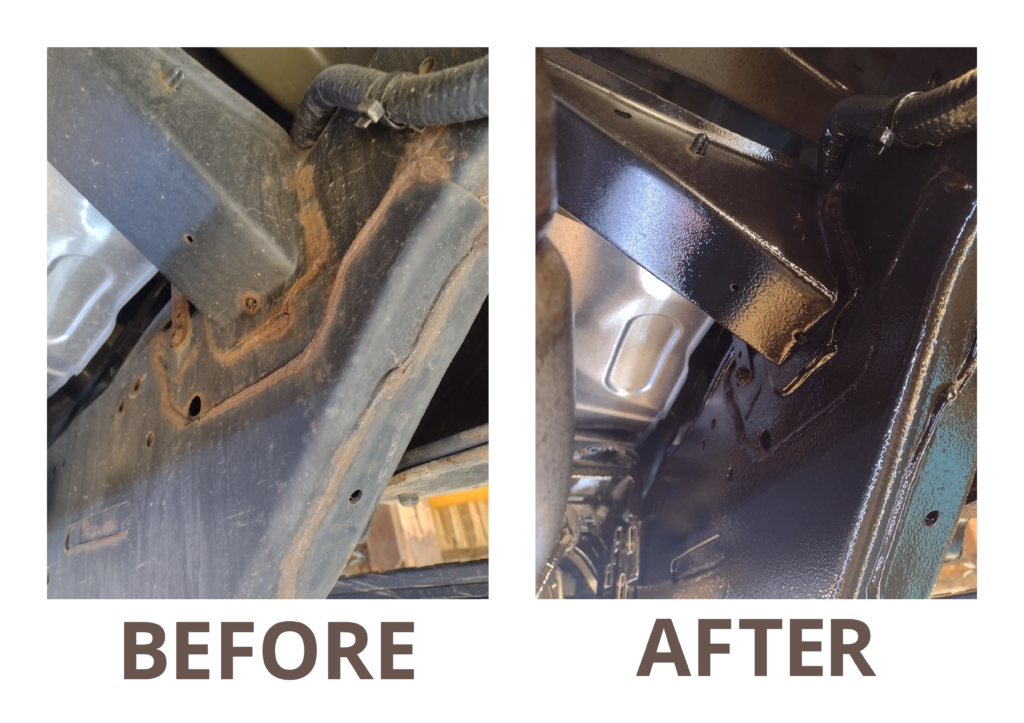 Exhaust Work
The exhaust system in your vehicle is made up of several different components. It works to remove combustion waste safely and quietly. Because there are so many moving parts, there are a lot of places within your exhaust system that could need repairs should they break down. Here are some signs you may be having an exhaust issue:
The engine produces a weird smell, like rotting eggs.
You hear ticking, tapping, hissing, or rumbling from the engine and it gets louder when you accelerate.
The vehicle does not accelerate like it should.
The vehicle's fuel efficiency has decreased.
The exhaust pipe is visibly hanging or dragging behind your car.
There is visible rust or a change in your exhaust smoke.
Because your exhaust system helps to filter out harmful substances, a damaged exhaust system can be dangerous for you and any passengers in your vehicle. If your car is not properly filtering exhaust or if any of it is leaking into your car, sickness and injury can follow. It is very important to have an experienced mechanic look at your vehicle if you notice any of the above problems. Do not delay on making exhaust repairs.
Full Diagnostic Repair
In the automotive world, diagnostic testing is on the newer side. More and more cars are being built with internal computers and these computers help to monitor different areas. In the same way that people have yearly doctor visits, your car should have a yearly diagnostic test.
Diagnostic testing can help to monitor your car's engine, brakes, throttle, oil tank, exhaust system, transmission, and much more. Running a diagnostic test is also a good way to pinpoint problem areas when your check engine light turns on. While the data collected by your car's computer won't be enough to tell mechanics the exact problem, it will give them an idea on where to look.
By having a diagnostic test run on your car, you will have a better idea of when certain parts will need to be repaired or replaced. This can help you avoid surprise breakdowns and prepare for upcoming vehicle maintenance. Diagnostic testing can also help to keep your car safe for you and those driving around you.